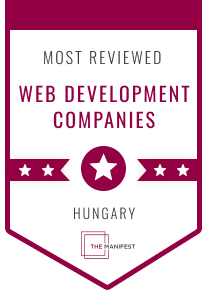 Lexunit is a digital innovations partner trusted by businesses of all sizes when it comes to fast but effective development solutions. We provide cutting-edge technology services that aim to solve your complex digital problems. We leverage our vast engineering expertise to adapt our projects and tailor them to your needs.

Today, we're excited to announce that we're found on The Manifest as a leader in the space. According to the B2B platform, we're one of the most reviewed web developers in Hungary.

Our commitment to quality is unparalleled. We value the spirit of collaboration and build meaningful relationships with our customers to ensure top-notch results. This award validates our passion for working with organizations in an effort to help them overcome their roadblocks.

Hyundai Technologies Center onboarded us in August 2021 for their software project. The subsidy of the renowned automobile company required us to build a solution for their circuit breaker interruptions. The purpose of the software is to accelerate Hyundai's calculation process. As such, we implemented a solution that enables the client to modify their database in a separate program far more quickly than the original platform.

"The purpose of this project was to accelerate certain processes in our business. Thanks to Lexunit, the work that took us a day or two to complete can now be accomplished in a couple of hours — they've successfully increased our efficiency, so now we have a tool to streamline our operations."

— Szabo Laszlo, Former Electrical Engineer, Hyundai Technologies Center

We appreciate the client leaving such insightful feedback about our project. Learn more about our notable accomplishments through The Manifest, a business blog platform.

If you need an award-winning development partner, please get in touch and request a free consultation.