Nowadays, AI (artificial intelligence) is becoming more and more advanced and popular. They can learn and adapt to work faster than humans. Most of them serve as tools and techniques in making our daily lives much easier by reducing human effort. Believe it or not, these machines are excellent assets for us due to their level of precision and accuracy, making them a useful tool for everyone.

Lexunit is an E2E solutions provider and a digital innovation partner that helps businesses increase efficiency and develop their products and services. Our expertise starts from the digitization strategy design to implementation. Aside from delivering high-quality solutions, we also make sure to build and maintain a healthy relationship with our partners. We are a highly talented and passionate team that provides various types of AI solutions.

We recently received a review on Clutch, a B2B ratings and review platform located at the heart of Washington, DC. JobStep needs a job platform that looks through the internet to find the perfect possible jobs for their users. So far, the project is in the early phases of development. Still, the client has been satisfied with our deliverables and performance. We can say that we have gained our client's trust with our work and professionalism.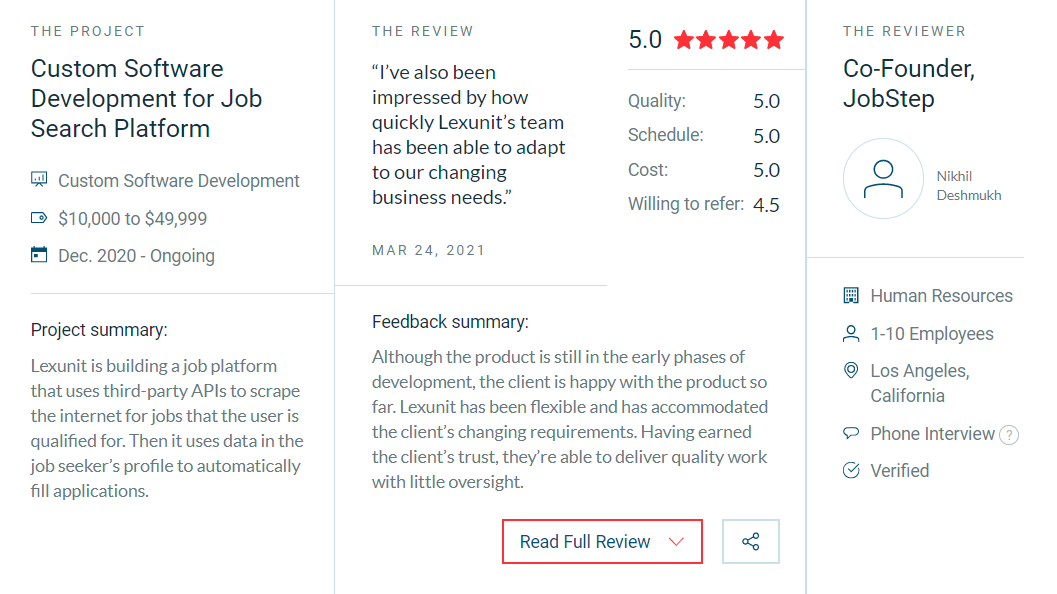 "We've been pleasantly surprised that they've been able to work autonomously. I don't need to manage their team day-to-day, so I only need to meet with them twice a week. In each meeting, we set high-level requirements, and discuss implementation details, but I trust them to execute the project in full." - Nikhil Deshmukh, Co-Founder of JobStep

It will always feel good to have such great reviews from our partners. Our company always aims to provide admirable services, and we are pleased to see our clients succeed in their endeavors.

Moreover, we are also showcasing our rank on The Manifest. We are number one in their list of top AI companies in Hungary, serving clients all over the world. TM is a business news and how-to platform, compiling and analyzing practical business wisdom for businesses and entrepreneurs.

Are you interested in working with us? Contact us today, and let us hear your project goals. We're excited to start an amazing journey with you!